H-A: Weber, Phillips top fields
Kokomo Tribune - Sunday, June 28, 2009
By CHRIS GARNER
Tribune sportswriter


Kokomo's Heather Weber isn't about to let a little thing like being pregnant slow her down.

Weber, who's expecting her fourth child in January, easily won the women's race of the 32nd Annual Haynes-Apperson 4-Mile Run/3-Mile Walk that concluded at Kautz Field Saturday.

Weber, 38, finished the revamped course in 26 minutes, 4 seconds. She last won the race in 2004 and was runner-up a year ago just nine months after delivering her third child.

Despite her somewhat delicate condition this year, Weber said she had hoped to go faster.

"Last year I was behind Waverly [Neer] by a few seconds and I was hoping to beat that time this year, but being three months pregnant makes it kind of hard to do that," Weber said with a chuckle. "I'm just happy with my run."

Fourteen-year-old Bethany Neeley was second in 27:57 and Ashley Bordner (28:27) was third. Weber, a mainstay on the local running scene, has three daughters ages 5, 3 and 21 months.

"It's the only way I can keep up with them and keep off the weight because I like to eat," said Weber. "I do enjoy it. I've done the [500 Festival] mini-marathon pregnant a couple of times.

"I think it's healthy for pregnancy, you know, as long as you don't overdo it. You just have to pay attention to your body telling you to slow down."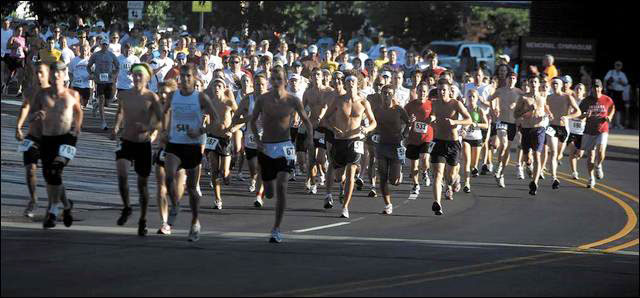 AND THEY'RE OFF: Runners head down Apperson Way during the Haynes-Apperson 4-Mile Run on Saturday. KT photo

Kokomo native Bryan Phillips won his second straight overall race victory, finishing in 21:34. Scott Colford, also 38, of Logansport, was second in 21:51.

Phillips, a 2004 Kokomo High School alum, recently graduated from the University of Southern Indiana in Evansville, where he still helps out with the cross country team, as well as works full-time.

"I'm getting adjusted to working full-time after graduating," Phillips said. "Trying to run at the same time has been a little rough, but I'm kind of figuring it out."

With the race normally held the weekend of the Fourth of July, Phillips wasn't sure he would be able to defend his title, but an unfortunate accident led to a trip back home this week.

"Since they moved [the race] up this year, I didn't know if I was going to be able to make it or not," said Phillips. "I ended up getting into a car wreck and had to come up here to collect my insurance money, so it actually worked out — probably not for the better, but it worked out."

Phillips and Colford went out in front of the field in tandem, with Phillips breaking away as they ran the final leg of the run over the Walk of Excellence through Future Park — a change from recent race finishes.

Colford, another veteran of several Haynes-Apperson races, said the change was for the better.

"I was concerned at first when they put the disclaimer in about unsafe footing, but it was nice," said Colford, who last won the overall race in 2004. "I didn't have any problem with it. I was pleasantly surprised that it wasn't a complete change."

Another change Saturday was a slight break in the stifling heat of the past week, as overnight temperatures managed to dip, however briefly, into the lower 60s.

"This past week, with the heat, I work in a job that it's a hot environment and I didn't have a good week as far as training, but I'm pretty happy with the result [Saturday]," Colford said. "Time-wise was about where I figured it probably would be after the week [of weather] we had."

After Phillips and Colford came a wave of youngsters — 16-year-old Blake Mills, 17-year-old Justin Anderson, 16-year-old Dylan Walker and 16-year-old Sam Freeman.

In the 3-Mile Walk, Rick Spencer was the overall winner in 30:02 and Mary Miller was second in 30:22.

Vince Lorenz (31:28) was the men's runner-up with Tim Taflinger (32:57) third and 72-year-old Jerry Lambert, the defending champion, finishing ninth overall.

Carol Anders (32:03) was the women's runner-up and Joann Quinnette (32:49) was third.